Earlier this summer I took advantage of my local Asian market and taught myself how to make sushi. I made a big event of it, having friends over, laying out the fixins and letting everyone learn how to roll and cut it themselves.
I have always been intimidated by sushi in the kitchen, but after learning how to make it, it seems silly. Making simple vegetarian maki is incredibly easy, though a bit time consuming. It also makes a lot, so it's not something I really see myself doing on casual dinner nights – best save this one for dinner parties and the like.
I also learned how to make Vietnamese fresh spring rolls, which is beyond easy. I'll tell you how to make both, starting with the sushi.
Vegetarian Sushi
2 cups Japanese short grain rice (Very important! White basmati will not work.)
2 cups water
2 Tbl rice vinegar
2 Tbl sugar
1 tbl salt
Seaweed, for rolling
Sushi fixins (cucumber, avocado, cream cheese, wasabi, etc)
Shoyu, for dipping
Saran wrap and toasted sesame seeds (optional, for inside-out rolls)
– Place rice in a medium sized pot, rinsing and draining until the water runs semi-clear. Add 2 cups of water and bring to a boil uncovered. Optional: Add a small square of nori in the pot. It will dissolve as the water boils and add a slightly different taste / look to the rice.

– Once it comes to a boil, reduce to a simmer and cover. Cook for 15 minutes. Then, remove from heat, mix in rice vinegar, sugar and salt. Let sit for 10 minutes, covered and your sushi rice is done!

Now, I'm not going to pretend like I can actually find the words to properly describe how to roll your sushi, but I will direct you to this website, which has step-by-step pictures that helped me a ton when I was first learning.
Helpful Tips
– Have a bowl of warm water with a drizzle of vinegar handy. When laying the rice down it will be very sticky, and dipping your hands in the water before you handle the rice will help.
– Always wet your blade before making each cut, and wipe it clean afterward. This will give you an easy cut and keep the roll from tearing.
– As you cut the sushi, arrange in a bowl or on a flat serving dish and dispose of the ends. And by "dispose" I mean "eat!" 🙂 Serve with a side of shoyu.
– If you want to make uramaki (inside-out rolls), the process is exactly the same except after laying the rice down on the seaweed, you'll flip the whole thing over, making sure to have a piece of saran wrap between the sushi mat and rice. Sprinkle some toasted sesame seeds on the rice before flipping it over for a really fancy treat!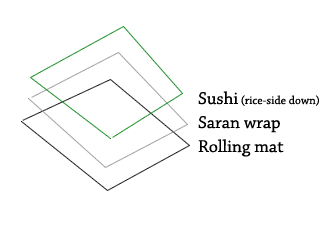 I don't have a picture of this process, but hopefully my crude diagram will get the idea across!
If you were overwhelmed by all of that, Vietnamese spring rolls might be up your alley. They are a light, healthy appetizer that can be prepared in under 30 minutes and, best of all, it's cheap as heck!
All you need to do to get started is pick up a pack of rice paper at your local Asian market. They look like this and shouldn't cost more than a couple bucks for a whole pantload of them.
Spring Rolls
Rice paper
Rice noodles
Cabbage
Mung bean sprouts
Choice vegetables, grated or julienned (carrots, bell pepper, cucumber, etc)
Toasted sesame oil (optional)
Sauce for dipping (I like Soy Vay Teriyaki, sweet chili sauce or a peanut sauce)
– Cook rice noodles as directed. Drain and set aside.

– Drizzle a light amount of oil in a frying pan over medium-low heat. Saute the cabbage, sprouts and any firm vegetables (carrots, onions) until they are less crunchy, but not soggy. Alternatively, you can skip this step and steam them instead.

– Fill a shallow dish with warm water. Pie pans work great for this. Submerge your rice paper for 30 seconds to 1 minute, depending on the thickness of paper and heat of water. It's important not to over soak or the paper will tear.

– Remove from water and place on a flat plate or cutting board. Assemble the ingredients in the center of the roll, and then wrap as you would a burrito. This is a great video which shows an obvious expert do the entire process.