When it comes to brownies I'm not hard to please, and that's my cue to rattle off all my extremely specific qualifications for the perfect brownie.
First things first, they cannot be described as having a "crust." I will suck it up and eat most anything out of a pathetic combination of desperation and boredom, but if a brownie has crispy, brittle, dry edges I'll probably cry and think about how much I wish I wasn't eating it (but will still eat it, obvs).
Second, the consistency of the brownie as a whole can't be light or fluffy. Or frosted. This isn't a cake. It's a brownie. But, on the other hand, it can't be too dense, either, or else I'll just get on the phone with Christmas and make fudge instead.
Third, walnuts are a must. While most variations on the theme of brownies don't really speak to me (e.g., cream cheese is good on everything so I'm sure it's great swirled in brownies, but I've never been moved to try it), walnuts are an addition I don't even think of as an addition. They just are. No walnuts in the pantry? No brownies.
Last, but never least, SALT. Salt to brownies is like sprinkles to a cupcake, the perfect garnish.
If you're like… exactly like me, you're going to love these. Thicc, dense and moist on the inside with a crispy crackled-top and chewy, but not hard, edges. And, for the first time in my life, I'm in love with the edges.
I couldn't even wait 10 minutes after they came out of the oven before I sampled a taste. Which turned into an actual bite… Which turned into the entire left-side crust disappearing within minutes. Oops.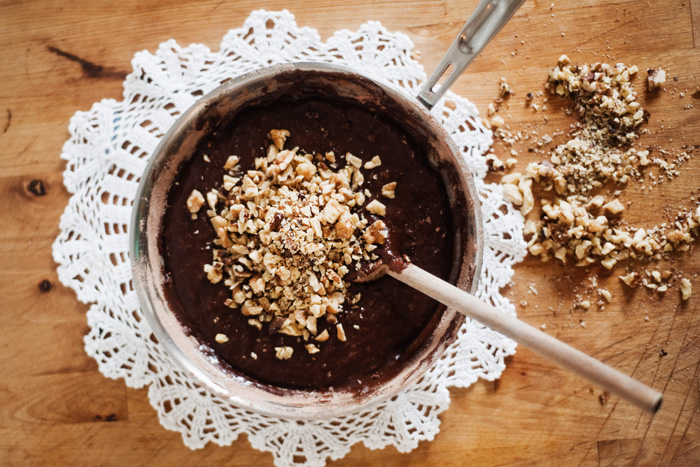 The best thing about these brownies, besides the fact that they are perfection baked in an 8×8″ pan, is that you get to save on dishes and make the entire batter in one dish.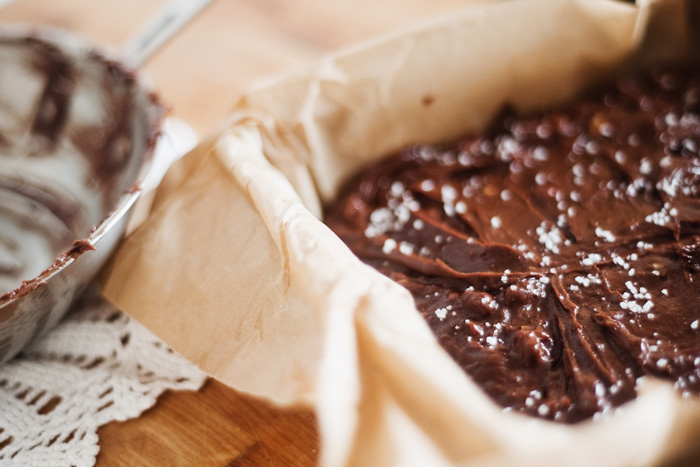 I tried to be clever and think of a blog title that referenced this simple method, but couldn't come up with anything that didn't sound like a weed joke (One Pot Brownies? No… One Bowl Brownies! NO.).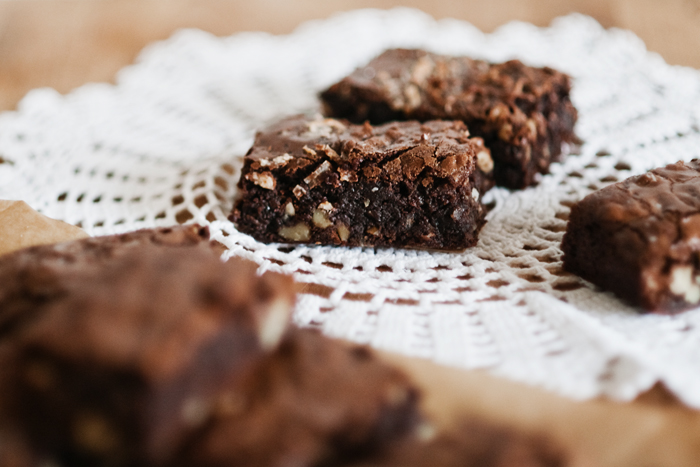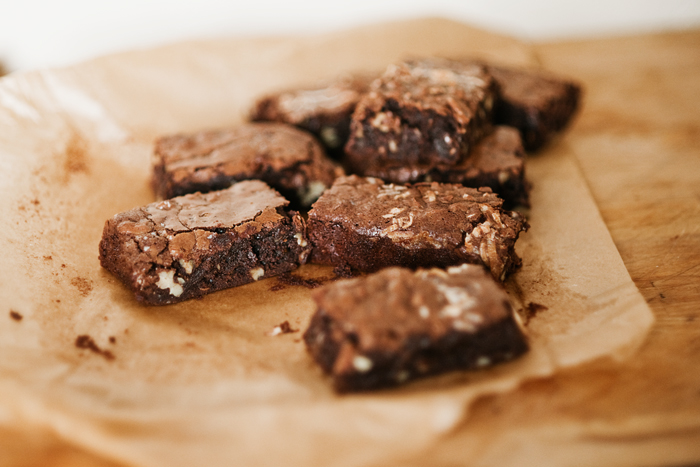 Best Brownies. Ever.
1 stick Butter
1 cup Superfine white sugar
½ cup Brown sugar
2 Eggs
1 Tbsp Vanilla
¾ cup Flour
½ cup Cocoa powder
½ to 1 cup Walnuts, chopped (two handfuls, in my case)
Fistfuls of flake salt
Optional: Couple handfuls shredded coconut.
Optional: Coarse sea salt, for the top.
Preheat oven to 390 degrees F. Line an 8×8″ baking pan with parchment paper.
In a medium saucepan or pot, melt the butter over medium-low heat. Add both sugars and mix.
Remove from heat. Add eggs and mix thoroughly. Then, slowly add the flour and cocoa (feel free to pre-mix these two if you don't mind the extra dish).
Slowly mix until well combined. Fold in walnuts, pinch of salt and any other additions.
Pour batter into baking pan. Sprinkle with a generous amount of coarse/flaky sea salt.
Bake for 25 minutes, or until delicious.
Let cool on a wire rack for 10-15 minutes before removing from the pan, using the parchment as a sling.
Then, let cool for an hour more (the horror, I know. It's okay if you don't make it – I didn't!) before cutting into bars, or squares, or whatever shape you like your brownies. I briefly considered triangles but, again, with the stipulations. 🙂